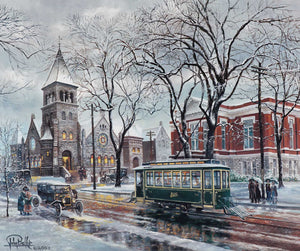 Fort Smith Regional Art Museum
"Sunday Morning" lithograph
Regular price
$125.00
$0.00
Unit price
per
Numbered, limited edition, offset lithographs printed on acid free paper, by John Bell, Jr. (1937-2013)
Image size 17 x 21" 
The view is looking north on 13th Street toward Grand Avenue. The First Baptist Church was located at North 13th and North D. Streets. The first church on this property was 1898. In 1967 a new church was built at Grand Avenue and North 14th Street and the church in the painting was later replaced with an activities building. The Carnegie Library to the right was opened in 1908 and was remodeled in 1970 for offices for a television station. 
"As a child I was shown how to draw stick figures to keep me entertained while my mother went about her chores. This sparked a fascination with the arts that has lasted throughout my lifetime and taken me through several professional careers: illustrator, product designer and fabric designer to name a few.
Although I have visited our country from coast to coast, I was born and raised in Arkansas. I have a keen appreciation for the beauty of our state and the character of her people; and as a result, most of my paintings consist of AR scenery and turn of the century AR cityscapes. Old postcards, early photographs and on-site photography are part of the research into each composition. All of these elements are combined to capture a moment in time that you can almost remember, even though you may have never been there."
The Department of Arkansas Heritage, quote by John Bell, Jr.
---