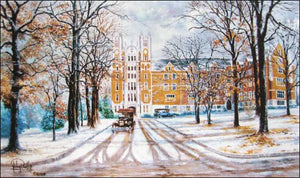 Fort Smith Regional Art Museum
"St. Scholastica Monastery" lithograph
Regular price
$125.00
$0.00
Unit price
per
Numbered, limited edition, offset lithographs printed on acid free paper, by John Bell, Jr. (1937-2013)
Image size 22 x 36" 
This image is of the Saint Scholastica Convent, now the Saint Scholastica Monastery, a historic religious facility at 1301 South Albert Pike Avenue, Fort Smith, AR. It is a large multi-winged brick and masonry complex with Late Gothic Revival architecture, five stories in height, set on a large landscaped property behind Trinity Junior High School. The building was designed by Oklahoma City architect F. W. Redlich, and was built in 1923–24. It originally housed living quarters for the convent as well as a chapel and school; the school closed in 1969, and the academic space is now leased to the Trinity School. 
"As a child I was shown how to draw stick figures to keep me entertained while my mother went about her chores. This sparked a fascination with the arts that has lasted throughout my lifetime and taken me through several professional careers: illustrator, product designer and fabric designer to name a few.
Although I have visited our country from coast to coast, I was born and raised in Arkansas. I have a keen appreciation for the beauty of our state and the character of her people; and as a result, most of my paintings consist of AR scenery and turn of the century AR cityscapes. Old postcards, early photographs and on-site photography are part of the research into each composition. All of these elements are combined to capture a moment in time that you can almost remember, even though you may have never been there."
The Department of Arkansas Heritage, quote by John Bell, Jr.
---